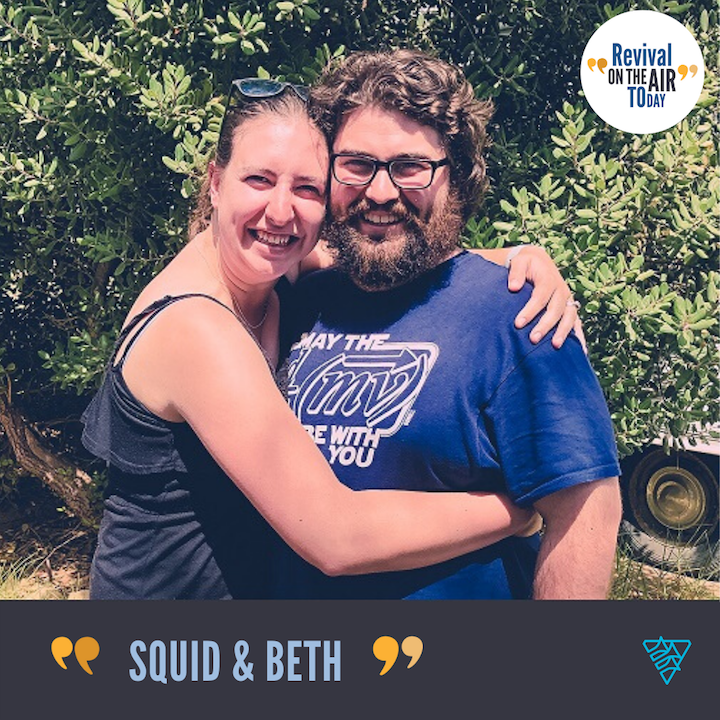 Squid (real name Michael) & his wife Beth tell their amazing story of how Squid was healed of Anxiety that was so severe at one point that he couldn't leave his house for months, and it affected his physical body to the point where his limbs would lock up and he couldn't move.
We hear Beth talk about how, despite him suffering from this since before they were married and for a number of years after, she never lost faith that God would heal him.
And that's exactly what God did.
This episode is so incredibly powerful, and a must listen – to not only learn about the depths of suffering that anxiety, depression and mental illness can cause, but of the amazing Grace & Love that God brings and His amazing Healing Power.
Their story embodies the power of sharing our testimonies with each other. Why not share this episode, or the podcast in general, with people you know? Who knows how it will inspire others to take hold of God's promises and their victory.
There's a couple of references to scriptures in the bible, links below.
John 5:1-9
1 Corinthians 14:22-31
Would you like God to change your life like he changed Squid & Beth's? Send us an email podcast@revivalontheairtoday.com or head to our website to find out what the bible says. www.therevivalfellowship.com
We obviously believe in the ability for God to heal all manner of physical, emotional and mental illnesses, however if you need immediate help regarding mental health, in Australia contact Beyondblue Support Service via phone on 1300 22 4636 or www.beyondblue.org.au, or contact LifeLine on 13 11 14 or www.lifeline.org.au. If you are not in Australia then please see your general practitioner, local mental health service or your local hospital emergency department.
healedbygod #trflife #godprovides #miracle #miracles #miraculous #anxiety #depression #mentalillness #whatdoesthebiblesay? #marriage #church #insicknessandinhealth #forbetterorworse