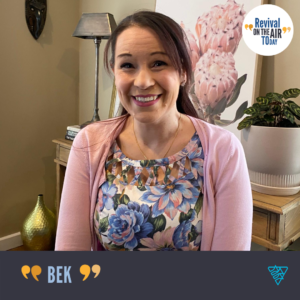 Bek tells her remarkable stories of the power of prayer for healing and divine protection.
From the moment she was born, with the umbilical cord around her neck, to her healing from deep vein thrombosis (DVT), protection from malignant melanomas and divine protection from two car accidents – the most serious of which occurred when she was thrown from a car at only 10 months old and pinned under it in a remote ravine.
You will wonder how one individual could be so accident and incident prone, and you will marvel at the power of prayer and the faithfulness of God in answering the prayers of His people.
Bek certainly is rejoicing today (as is her family) under the protection of our mighty God.
Here's a verse of scripture for you in Psalm 63:7 from the King Kames Bible: "Because thou hast been my help, therefore in the shadow of thy wings will I rejoice"
Feel free to reach out to us if you'd like to know more about how God can intervene on your behalf and change your life. Email us podcast@revivalontheairtoday.com or head to our website to find out what the Bible says. www.therevivalfellowship.com
Until our next episode, God Bless.