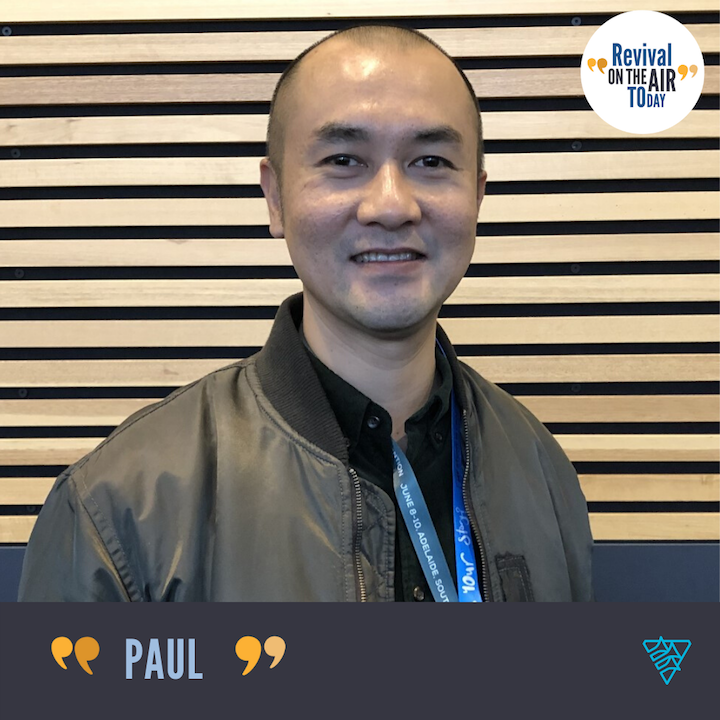 In this episode, I chat with Paul from Hong Kong when he was at our International Convention in Adelaide. Paul shares his remarkable story of healing & second chances.
In his wild university days circa 1998, Paul searched for and was excited to find God when a friend told him about the need to be baptized of both water and the Holy Spirit (which he did). However, after 7 years, Paul's faith was still weak, and the lure of a world of fast living pulled him away from his faith and the Church.
In 2015, Paul's world crashed around him when he was diagnosed with liver cancer. Liver cancer is the fifth most commonly occurring cancer in men and the ninth in women. Statistics and information on liver cancer may be found at www.wcrf.org and mortality rates at www.cancer.net.
Although he had walked away from God, Paul knew through the Holy Spirit inside that God could heal him. He repented & turned back to God through prayer and fellowship and was miraculously healed of cancer.
Today, Paul is cancer-free and no longer leads the life that saw him involved in seedy business interests. He is appreciative of his renewed health, his God-given peace and a second chance to live a life that is pleasing to God.
The story brings to mind a verse in 2 Chronicles 7:14, which speaks of God's forgiveness and healing grace. All that is required to access a second chance for a better and wholesome life is outlined there:
"If my people which are called by my name, shall humble themselves, and pray, and turn from their wicked ways, then I will hear from heaven, and will forgive their sin, and will heal their land"
If you too, would like to access God's blessing – whether it is for a healing need, a change in life circumstances or you would like direction on how to find a new life purpose, visit www.therevivalfellowship.com or feel free to contact me via email at podcast@revivalontheairtoday.com.
I invite you to listen to other recorded episodes of what God has done – just scroll back through all the past episodes on your podcast app (I think we're nearly around 40 episodes) You can also find us on Instagram or Facebook.
Until our next episode, God Bless