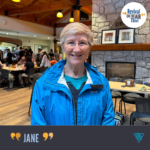 In this episode, we talk to Jane, who shares some remarkable healings from incurable illnesses.
– Cataracts https://en.wikipedia.org/wiki/Cataract 
– Arthritis https://en.wikipedia.org/wiki/Arthritis 
– Bursitis https://en.wikipedia.org/wiki/Bursitis 
We sure do have a gracious God, who can heal us from all manner of disease. "And Jesus went forth, and saw a great multitude, and was moved with compassion toward them, and he healed their sick". Matthew 14:14 KJV.
Thanks Jane for sharing your story.
For more wonderful stories of miracles that have happened to people just like you, head to revivalontheairtoday.com.
Want to know more about how God can change your life? Save you? Perform a miracle for you?
Send us an email via podcast@revivalontheairtoday.com . You can also follow us on social media (we're on Instagram and Facebook, just search for "Revival On The Air Today").
(c) 2023 The Revival Fellowship